Water Filters & Cartridges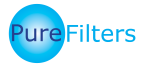 Pure Filters is a brand of Ecoboil Appliances Limited, set up to complement our range of boiling and chilled water units. We source and distribute an extensive range of filter kits, replacement cartridges, taps and filter housings. All our products come from quality manufacturers who produce excellent products for water filtration and purification, brands like Pentek, Omnipure, Apex Valves, KX Technologies and John Guest.
Our range is suitable for home, rural and commercial environments, where there is a preference for a clean and reliable water supply. We are happy to guide you with recommendations for the various water types New Zealand wide and the best ways to achieve pure, great tasting water. All of the Pure Filters products come with a 12 month guarantee from date of purchase.
Pure Filters Brochure